Discover all Orlando's products in an interactive catalog!
Pesto with pumpkin seeds
We like pasta so much that we decided to show you the last recipe we tried. It's a farfalle pasta recipe, to which I made the best Pesto sauce with pumpkin seeds.
Everyone knows that traditional pesto sauce is based on fresh basil, parmesan, garlic, olive oil and pine seed. We've been a little adventurous and chose to replace pine seed with Orlando's Pumpkin Seed.
From the nutritional point of view, the benefits of pumpkin seeds are numerous: they are rich in vitamins and minerals (magnesium, phosphorus, zinc, iron), a rich source of healthy Omega 3 fat, regularly consuming pumpkin seeds helps to lower blood pressure , lead to good cholesterol, helps the liver, but also the entire bone system. Pumpkin seeds are also an excellent source of fiber and vegetable protein. They are quite rich in calories (100 grams of seeds = 580 kcal), so they should be consumed with restriction. A portion of 30 gr. (174 kcal) is the portion recommended to be consumed.
Pumpkin seeds can be eaten as it is, can be used in various salad recipes, aperitif chefs, can be made puddings (pates), can be put in yoghurts, in puddings, can be served in soups creams or can be made better pesto sauce, just like we did.
Ingredients
1 box (2 punches) of fresh basil
60 gr. Orlando's raw pumpkin seeds
60 gr. parmesan *
2 cloves of garlic
5-6 tablespoons olive oil
½ lemon juice
a little salt and pepper (to taste)
150 gr. integral farfalle (or your favorite pasta: penne, spaghetti, fusili, tagliatele)
* If you are a vegan or post, you can omit the Parmesan or replace it with inactive yeast flakes. Inactive yeast flakes have the same taste as cheese, so they will do an excellent job.
This Pesto sauce with pumpkin seeds has a very good smell, taste, and texture, and we do not even tell you anything about color: a perfect green. You can use pumpkin sauce not only in a pasta recipe but also as a dressing for salads, over a piece of grilled meat or oven, in different sandwiches or wrapping, to which we will make sure that they give you more flavor.
This time, we chose to use Pesto sauce with pumpkin seeds to a recipe of whole pasta (farfalle), and the result was absolutely delicious.
You have to try this pesto sauce, we promise you will not buy the supermarket again!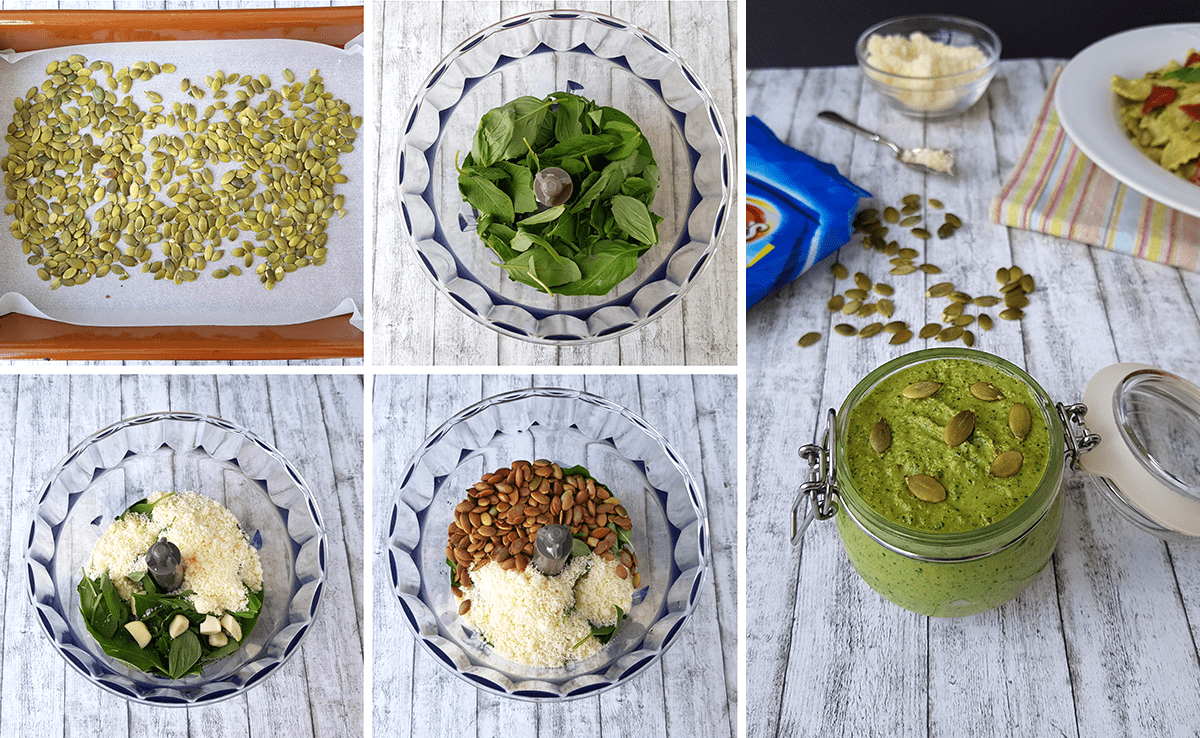 For starters, put your favorite pasta to boil in water with a little salt, as instructed on the packaging.
Put the 60 gr. pumpkin seeds in a baking sheet, then place the tray in the preheated oven at 180 ° C for 7-10 minutes to roast a little. Do not forget to mix them in 2 to 2 minutes to avoid burning and browning on both sides. You can also use the raw seeds, but if you roast them a little in the oven, they will taste the pesto sauce.
As long as the pasta is boiled and the seeds are in the oven, prepare the pesto sauce. In a kitchen robot put one by one: basil, two garlic cloves, shredded parmesan, a little salt and pepper, olive oil and half lemon juice.
After the fireplaces have browned and cooled a bit, add them to the robot, pulse a few times until everything turns into a creamy sauce. Fill with olive oil or water depending on how creamy you want pesto sauce. We added a little water. In case you do not want to use pesto sauce in place, put it in a hermetic jar and keep it in the refrigerator.
Your favorite pasta must be boiled already, so squeeze them, put them back in the pot, then add a few spoons of freshly made pesto sauce and stir.
SERVICE SUGGESTION
Put pasta with pesto sauce with pumpkin seeds in dishes or deep bowls, put some pieces of dried tomatoes on top and sprinkle some pumpkin seeds over pasta.
Bon appetite!