Discover all Orlando's products in an interactive catalog!
Banana bread with cranberries and ginger
Banana Bread has become a very popular recipe so we can not do it, so we decided to make a banana with cranberry and chopped ginger Orlando's.
What is Banana Bread? It would be sweet banana bread, but it is actually a soft, fluffy and fragrant cheek. It is not difficult to prepare, you only need a few ingredients, which most of us are sure you already have in your kitchen, plus some extra ingredients for added flavor. In ours, this "extra" consisted of cranberry and chopped ginger, which perfectly complemented the final taste.
The real surprise of this dessert was the ginger, which gave a spicy note and managed to really delight our taste buds.
To make this cheek, we advise you to use bananas as ripe as they will replace the sugar in the composition. The more ripe the bananas, that is, the soft and black spots, the sweeter they will be, and you will not have to add refined sugar. We preferred to rely on natural sugar from bananas as well as cranberries and ginger, so we can make a fairly balanced calorie dessert.
You can eat 2-3 slices of Banana Bread with cranberry and ginger confit in the morning, at breakfast, along with tea, coffee or even yogurt, as a snack between meals or even as an innocent dessert. Keep well in the refrigerator for 4-5 days.
Here's how simple and fast you can make an absolutely delicious banana: in a bowl place the ingredients dry: flour, baking powder, cinnamon, a pinch of salt and stir.
Remove the bananas from the shell, tear them into smaller pieces and put them in a bowl. Using a vertical blender mix them until they become a paste/puree. Beat the two eggs and add them on bananas, along with the essence of rum or vanilla. Mix them.
Put these wet ingredients in the bowl over the dry ingredients and mix gently with lotion until the composition is homogenized. If necessary, add some milk or natural yogurt as much as needed to homogenize the composition. The composition should be slightly liquid.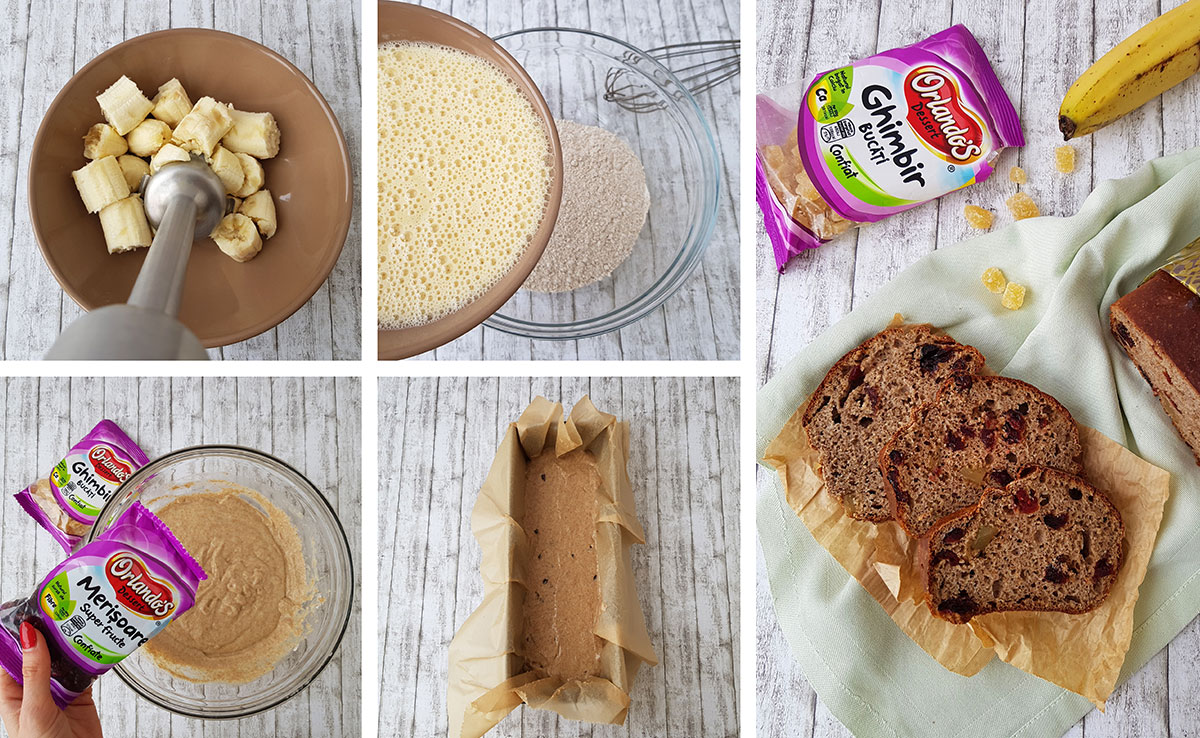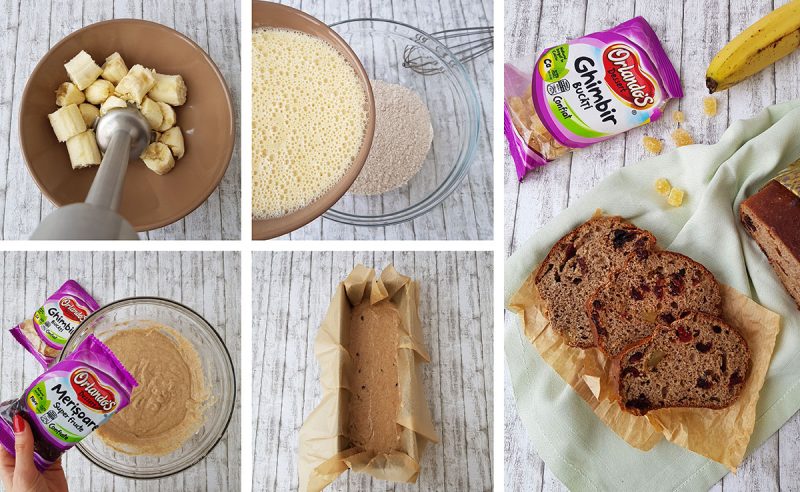 Add to bowl 80 gr. cranberry and 50 gr. ginger confit and mix everything with a wooden spoon.
Pour the banana bread composition into a baking sheet covered with baking sheet and place the tray in the preheated oven at 180 ° C for 40-45 minutes. Take the tooth test, that is, put a toothpick in the middle of the chest, and if it goes clean, no dough, then the banana bread is baked.
ADVICE 1: do not open the oven door until after 25-30 minutes after you put the tray in the oven, so you risk losing the entire composition and not growing!
ADVICE 2: let the banana bread cool completely, then you can cut it into slices!
ADVICE 3: is too good, be careful not to eat it all at once! Ha, Ha, Ha!
Serve a few slices in the morning with coffee, tea or yogurt. You can also take some slices with you packed at work, college or school in a small casserole. Do not forget to share with your colleagues, they will surely ask for your recipe.
Have a craving for cooking!